ITIL and Infrastructure Management
To succeed, IT Service Management must integrate IT systems with supporting non-IT business processes to deliver business services to customers. ITIL is a defined set of closely related processes necessary for effective IT infrastructure management. ITIL provides a comprehensive framework to align IT activities with business objectives. This helps enable operational improvements at justifiable costs through a focus on delivery of business services.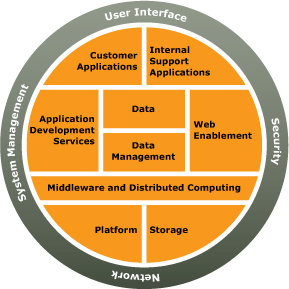 What is IT infrastructure?
IT infrastructure comprises all the hardware and software that support delivering the enterprise's business services (both customer-facing and internally facing). ITIL emphasizes the relationship between the IT organization and the business's customers and partners.
However, since ITIL is only a framework, firms can't just "do ITIL" or buy it out of a box. Unfortunately, ITIL has often been viewed as a purist religion by some practitioners, obscuring the real value of a disciplined approach.
Each organization needs to adapt ITIL to its individual requirements,
especially with respect to integration and migration of its current processes, people and technical infrastructure tools to the new ITIL-based processes and tools. Improving IT efficiency and highly automated end-to-end service management can only be achieved by implementing tools that enable the IT process design while integrating new elements into the existing infrastructure.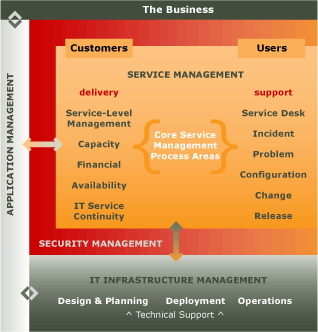 An ITIL representation of an enterprise's IT Service Management Processes (central box) as they relate to Business Services (top), Application and Security Management (left) and IT Infrastructure Processes (bottom).
Implementing ITIL best practices to automate IT processes means integrating new tools with numerous process, data and event points distributed across existing deployments of tools, systems, databases and networks. class="caps"
Most large IT operations' core competencies are the deployment, support and daily operations of complex systems. Because they do cross-technology, enterprise implementation projects infrequently, IT does not keep personnel on staff with the appropriate expertise in advanced systems integration as well as the necessary ancillary skills to plan and execute highly iterative technical infrastructure projects. Typically, they lack sufficient people with relevant expertise and experience in the specific products, systems integration and project management needed to execute the project while supporting the existing infrastructure.
By contributing advanced systems integration expertise and sophisticated project management methodologies,
HHG can help make your ITIL program a practical success. We supply product expertise, systems integration methods and experience, as well as technical architecture and leadership.
HHG typically participates in a mixed team, where client IT staff, tool vendors, process consultants and Haddon Hill Group personnel collaborate.